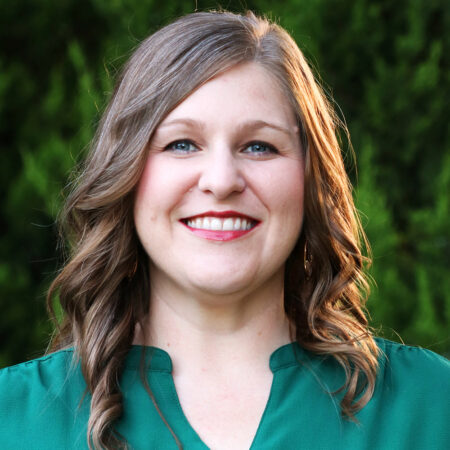 Dr. Anne Gassmann
Director of Choral Music, Director of Choirs, Assistant Professor
Department of Music
Dr. Anne Gassmann is the Director of Choirs and Director of the Vocal Area at Kansas Wesleyan University. Her duties include conducting the Philharmonic Choir and Wesleyan Chorale, as well as teaching applied voice, vocal-related courses.
She received her Doctor of Musical Arts in Choral Conducting from the University of Nebraska — Lincoln. As a graduate doctoral student, she assisted with University Singers and Chamber Singers while co-conducting the unauditioned treble choir, University Chorale. This peer-reviewed ensemble performed at the 2018 Nebraska Music Education Association Conference. Dr. Gassmann received the Master of Music in Choral Conducting from North Dakota State University, where she studied with Dr. Jo Ann Miller and served in various graduate teaching roles.
Prior to her doctoral work at UNL, Dr. Gassmann taught middle and high school in the upper Midwest for four years. In addition, she channeled her passion for teaching by serving as Director of Voice and Artistic Director of A New Blend, an auditioned high school ensemble, for the Summer Performing Arts Company in North Dakota.
As a strong advocate for lifelong singing, Anne continues to perform as both an ensemble member and soloist throughout the Midwest. Ensembles include CORO, Sounding Light, Cantorei of First Plymouth Church, and the Fargo-Moorhead Choral Artists.
Dr. Gassmann holds memberships in American Choral Directors Association, National Association for Music Education, National Association of Teachers of Singing and National Collegiate Choral Organization.