Mathematics Education 6-12
Inspire the next generation of mathematicians.
Bachelor of Arts (B.A.)
As a Mathematics Education major at Kansas Wesleyan University, you will study math in depth and learn teacher education procedures, policies and practices as part of KWU's Christian liberal arts curriculum. With clinical practice in a student teacher role, you will learn how to how to run a classroom and confidently impart mathematics principles to your middle or high school students.
Why study Mathematics Education at KWU? Personal mentoring by faculty!
Mathematics majors at KWU have the opportunity to study in small classes, which ensures your questions get answered. You also get the individualized mentoring necessary to make good decisions regarding your career options.
Complete an undergraduate research project that culminates in a paper and presentation as part of your Mathematics Research class.
Get involved in the Math and Physics Club where you will acquire leadership skills and develop your network.
What can I do with a Mathematics Education degree from Kansas Wesleyan University? Inspire young learners!
Mathematics Education graduates go on to teach in the classroom, serve as school administrators and becoming tutors. Their work as teachers in the classroom goes a long way to providing foundation of learning for those students who will go on to use math professionally and in everyday life.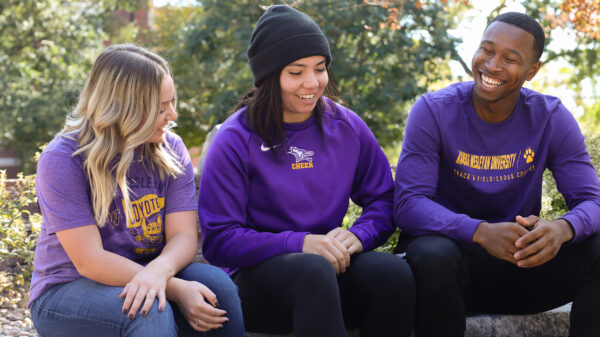 This program is offered:
On Campus
Teacher Education Certification
Certification Requirements – 43 Credit Hours
The student must complete the Liberal Studies requirements for Teacher Education, the Secondary Education Minor requirements, and the following additional courses:
MATH 145 Calculus
MATH 222 Modern Geometry
MATH 225 Linear Algebra
MATH 243 Discrete Mathematics
MATH 245 Calculus II
MATH 246 Calculus III
MATH 323 Intro to Mathematical Statistics
MATH 327 Modern Applied Algebra
MATH 425 Real Analysis
ED/MATH 467 Methods for Teaching Mathematics
COMP 131 Foundations of Computer Systems OR COMP 232 Programming in C++
Mathematics Teacher Education Certification Electives
Elective course numbered 300 or above
Elective course numbered 300 or above
Elective course numbered 300 or above