Partners
Collaborating with Innovators and Leaders Committed to Change
The Community Resilience Hub is centered on collaboration and partnership. We convene those willing and able to make change and work with us to develop solutions to our most pressing issues affecting food sustainability and community resilience. In our first year, exciting new partnerships have enhanced our vision and strengthened our mission. Each phase of our development will introduce opportunities, leaders, supporters and organizations that will enable us to achieve our goals.
Quail Creek Family Farms
Participants in CRH initiatives perform research and take part in hands-on learning at Quail Creek Family Farms, a fully functioning regenerative farming operation in Salina, Kansas. Operated by JRI Hospitality and Ingermanson Farms, the 600-acre outdoor laboratory includes farmland and a variety of animals that are fundamental to regenerative farming.
In its regenerative-farming quest, Quail Creek Family Farms and the CRH will provide the outdoor fieldwork for research and education that will lead to certification and degrees. In addition, JRI is committed to assisting with providing food distribution opportunities and support for farmers who participate in the CRH programs.
Within Quail Creek's 1,000 acres, 300 acres have been planted with cover crops. More than 100 sheep are rotational grazing on the acreage. With the additional acreage, the farm will construct several mobile chicken coops, and will begin to introduce several other animals and crops into the system.
The Rodale Institute
Rodale Institute, a nonprofit that has been a global leader in the regenerative organic farming movement for over 75 years, is partnering with the Community Resilience Hub in innovative and exciting ways. Rodale will provide regional farmer training and support, as well as programming for students that includes research, educational opportunities and farm practices unique to the Central Plains.
Rodale recently described its partnership with KWU in its Organic Insider publication. "Not only will Rodale provide regional farmer training and support, it will also contribute to programming for students, which includes research, educational opportunities and farm practices unique to the Central Plains…through Rodale's partnership with Kansas Wesleyan University, students will be educated about what is happening with organic on a political level, and hopefully, this will encourage them to get engaged in the process and demand a seat at the table."
Read more about this exciting partnership.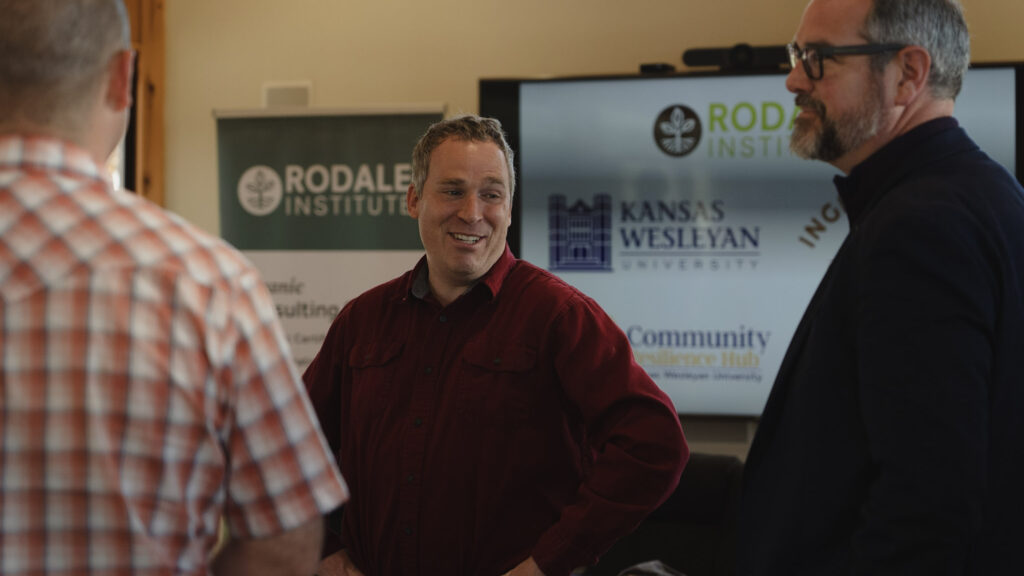 Leaders from Kansas Wesleyan and JRI Hospitality met at The Rodale Institute in April 2023 to discuss a new partnership.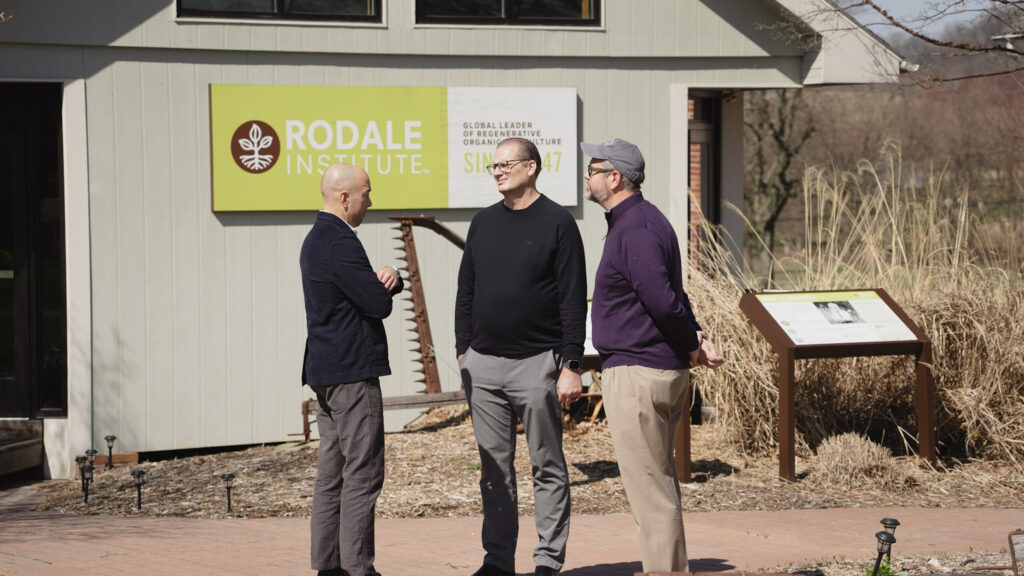 Leaders from Kansas Wesleyan and JRI Hospitality met at The Rodale Institute in April 2023 to discuss a new partnership
The Kansas Rural Center: Building the Central Kansas Food Corridor
Kansas is a paradoxical state for food, as agriculture is the dominant industry, but most of the food consumed in the state is imported, especially fresh fruits and vegetables. There are signs of change as local food production and distribution systems are growing in Kansas. Central Kansas has a burgeoning local food scene, but much of the food produced is distributed directly to consumers at farmers markets, through Community Supported Agriculture (CSAs) and online stores. The central area of the state, including Wichita, the state's largest city, does not currently have access to a farmer led food hub targeting wholesale distribution.
A half-million-dollar grant from the USDA is providing a solution. This exciting collaboration between the Kansas Rural Center, Common Ground Producers and Growers, St. John's Missionary Baptist Church and the Community Resilience Hub at Kansas Wesleyan University, is working to develop mobile markets to improve access to local foods in communities with low access to fresh, nutritious food.
The Food Corridor project connects farmers and food distribution partners in a twelve-county corridor in Kansas along Interstate 135, between Wichita and Salina. The project creates a farmer-led food hub in the region and provides technical assistance to farmers looking to move into wholesale markets. In addition, it connects the food hub and other farmers in the region to mid-tier market channels including restaurants, grocery stores, schools and other institutions.
This project is geared toward a holistic vision of the food system and will simultaneously help farmers in the region, who have production available at local markets, the opportunity to access new market channels, increasing access to fresh, local food for consumers across the region, with a special attention toward areas that currently have limited access.