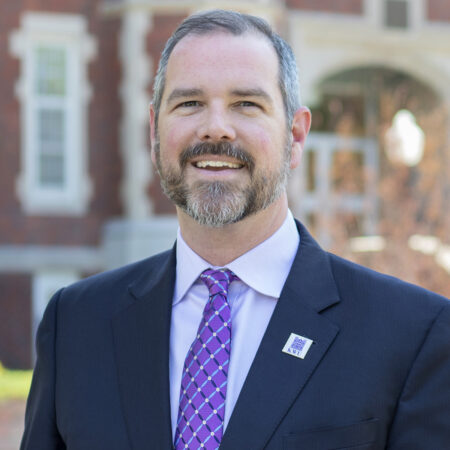 Dr. Matt Thompson
President and CEO
President's Council, President's Office
Degrees: Doctorate in Higher Education Administration, University of Georgia, Masters of Business Administration, Mercer University, Bachelor of Arts in Communication, Mercer University
Since April 15, 2013, Dr. Matthew R. Thompson has served as the 19th president of Kansas Wesleyan University. In a world where academic leadership changes quickly, Thompson has been a beacon of consistency for KWU. He is the fourth-longest serving president in the university's 137-year history.
That consistency has led to exceptional growth. The university has increased its endowment by nearly 50%, posted record enrollment (and a 30% increase since 2019) and engaged in the most significant changes to its footprint ever. KWU added its first new, on-campus academic building in 50-plus years with the 2021 opening of the Nursing Education Center. This will be followed by the January 2024 opening of Coyote Village (the university's first newly constructed student housing in some six decades) and renovation and expansion of music facilities, including Sams Chapel, which will open in the fall of 2024.
Thompson champions practical, real-world collaborations that can increase opportunities for everyone. Work with the Salina Family YMCA, local law enforcement and nationally known nonprofits have all provided new chances for students to work, learn and engage with the world around them. This includes the university's launch of the Community Resilience Hub, an initiative focused on work that will lead to a more stable, secure and equitable ecosystem in the region.
KWU's leader is also an advocate for the university's diversity, equity and inclusion work that engages with DEI-related questions and issues, both on campus and in the community.
Thompson has also fostered efforts to realize the importance of spirituality on KWU's campus and to adhere to KWU's faith-based ideals; that is, to respect the philosophy espoused by the United Methodist Church: "Open Hearts, Open Minds, Open Doors." KWU's Campus Ministry program has grown noticeably during his tenure. Each athletic program and numerous activities have designated chaplains, who provide spiritual leadership and care for the students, and KWU has added an additional campus pastor, as well.
Before coming to KWU, Thompson served as the vice president for advancement at Florida Southern College. Beginning his career at his alma mater, Mercer University, Thompson has served in a variety of administrative posts. He has a broad base of experience, including advancement and fundraising, student life, academic curricula development, and alumni and community relations.
Thompson serves on several boards and committees in Salina and the state. He earned his Bachelor of Arts in Communication & Theatre Arts and a Master of Business Administration from Mercer University. His Doctor of Philosophy in Higher Education Administration is from the University of Georgia.
Thompson is an Eagle Scout and served as a page in the U.S. House of Representatives.
He, his wife, Jennifer, and their daughter enjoy traveling as a family, participating in all aspects of campus life and attending the many cultural arts opportunities in the Salina community.