Music Education (PreK-12)
Ignite passion in the next generation of musicians.
Bachelor of Arts (B.A.)
Music shapes the mind and spirit in unique ways. Students at Kansas Wesleyan University are encouraged to take part in all facets of the music program, with the opportunity to perform in KWU vocal and instrumental ensembles. They may also participate in large scale musicals, operas, and concerts through partnerships with the Salina Community Theatre and Salina Symphony.
The department offers a Music Education degree option, which allows the student to gain K-12 music teaching licensure in the state of Kansas. Working in collaboration with our Teacher Education program, students seeking this degree follow a rigorous curriculum in which they learn skills that will be invaluable as they embark on their careers as a music educator.
Because of the unique, small-school advantages at KWU, graduates enter the community as well-rounded citizens and musicians, ready to meet the challenges of the 21st Century.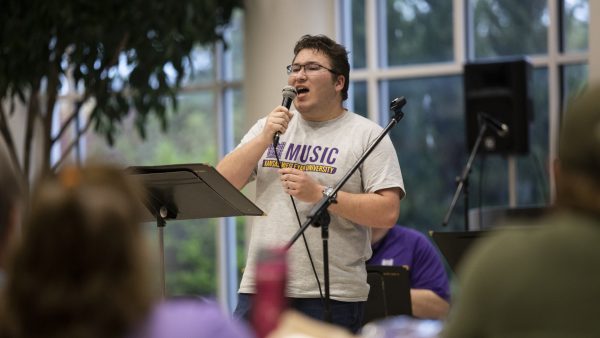 This program is offered:
On Campus
Why Study Music at KWU? Internationally-renowned faculty!
At Kansas Wesleyan University, students have first-hand opportunities to receive instruction from world-class faculty. Each faculty member, in addition to stressing quality performances, emphasizes the day-to-day basic music education techniques that lend themselves to preparing students to become marketable, well-prepared educators and performers. Students at Kansas Wesleyan are able to tailor their course of study to match specific interest or goals, such as instrumental conducting, composition or operatic solo singing. Because of these unique small-school advantages, graduates from KWU enter the classroom as a well-rounded music educator, possessing the skills needed for today's music teaching jobs. Musicians from all academic disciplines at KWU are involved in a wide range of groups: Wind Ensemble, Philharmonic Orchestra, String Orchestra, The Howl of Kansas Wesleyan, Percussion Ensemble, Jazz Ensemble, Philharmonic Choir and Wesleyan Chorale.
What can I do with this degree? Perform, teach and more!
Performing and teaching are the two most common careers in music. The first path is finding a job in an orchestra or professional ensemble—or in a cast, for Music Theatre majors. The second path is teaching, either in a high school or university, the latter of which actually requires an additional degrees on top of a Bachelor's in most instances. An excellent combination is playing and teaching simultaneously.
Musicians typically combine multiple jobs with multiple income streams to support themselves and their families, and to experience fulfilling careers. Performance and non-performance work do not have to be mutually exclusive; many fields allow musicians to do both. Some careers require graduate education—such as college-level teaching and conducting—or additional training beyond what you'll find in an undergraduate program.
A degree in Music can point you toward a variety of opportunities, such as accompanist, adjudicator, arranger, artist management, arts administrator, band director, clinician, choral director, composer, conductor, copyist, educator, historian, librarian, lyricist, music agent, reviewer, musicologist, orchestrator, performer, piano tuner, private instructor, radio producer, sacred music minister and vocal coach.