Music Studios and Facilities
The KWU campus is home to two facilities frequently used by the Department of Music.
Sams Chapel
The Hall of the Pioneers, 2nd Floor – Currently Under Renovation
Sams Chapel, named in honor of Earl C. Sams, former president of J.C. Penney, is the home for all Band, Choir and Orchestra concerts, as well as Band and Orchestra rehearsals. Student recitals, campus-wide student events, presentations and award ceremonies also take place in Sams Chapel. The stage is topped by a beautiful hand-painted mural depicting the westward travels of the early pioneers.
Sams Chapel is currently undergoing renovations and is expected to reopen at Homecoming 2024.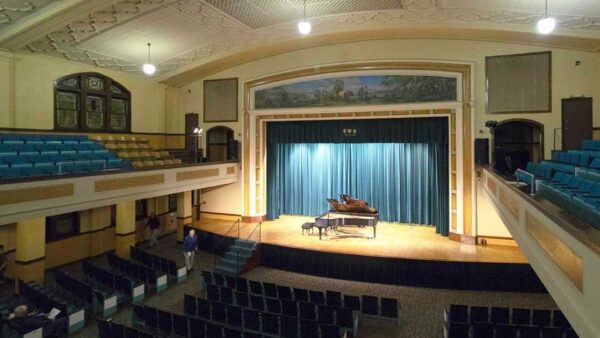 Applequist Family Music Center, Pioneer Hall 1st Floor
Unveiled in Fall 2024, the Applequist Family Music Center offers numerous practice rooms with greatly improved soundproofing, increased percussion space, additional classrooms and a lounge area for music students to gather. The Center is part of KWU's Music campaign, which includes the renovation of Sams Chapel and the construction of a lobby and facility specific entrance.
View photos of the Music Center here.