Music Studios and Facilities
The KWU campus is home to two facilities frequently used by the Department of Music.
Sams Chapel
The Hall of the Pioneers, 2nd Floor
Sams Chapel, named in honor of Earl C. Sams, former president of J.C. Penney, is the home for all Band, Choir and Orchestra concerts, as well as Band and Orchestra rehearsals. Student recitals, campus-wide student events, presentations and award ceremonies also take place in Sams Chapel. The stage is topped by a beautiful hand-painted mural depicting the westward travels of the early pioneers.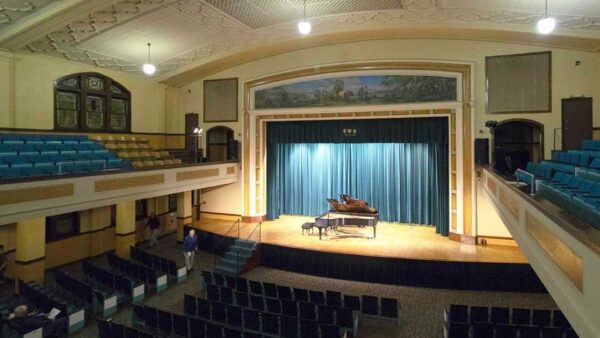 Music Center, Pioneer Hall 1st Floor
Several practice rooms are available in the music center, most equipped with a piano and a mirror, as well as 2 larger chamber rehearsal rooms equipped with baby grand pianos. A multipurpose classroom serves as a classroom for music students, a larger chamber room, and also houses a percussion studio practice space. The music center's main space includes instrument storage lockers, a large, open lobby space where students and faculty can collaborate, hold meetings, or take a quick break from the practice room. The majority of faculty studio spaces and the music library are also housed in the music center.