Music
We embrace the fusion of teaching AND mentoring musicians.
Bring Fusion to Your Music Education
The KWU Department of Music believes that teaching 21st Century musicians should involve the fusion of various musical styles and genres, coupled with the mentorship of students as they build their careers.
The forward-thinking concept of Fusion is at the core of our teaching philosophy as we strive to create the 21st century music educator, performer, and advocate of music.
The Department of Music offers the Fusion of:
Vibrant performance experiences for both music majors and non-majors.
A talented faculty whose background reflects diverse pedagogical styles, performance experiences, and musical interests.
Creative music-making activities such as improvisation and composition as integral parts of our programs.
KWU Ensemble performances partnered with strong ties to the local arts community in Salina, including the Salina Symphony and Salina Community Theatre.
Opportunities for generous scholarships with the McMosley Scholarship Competition.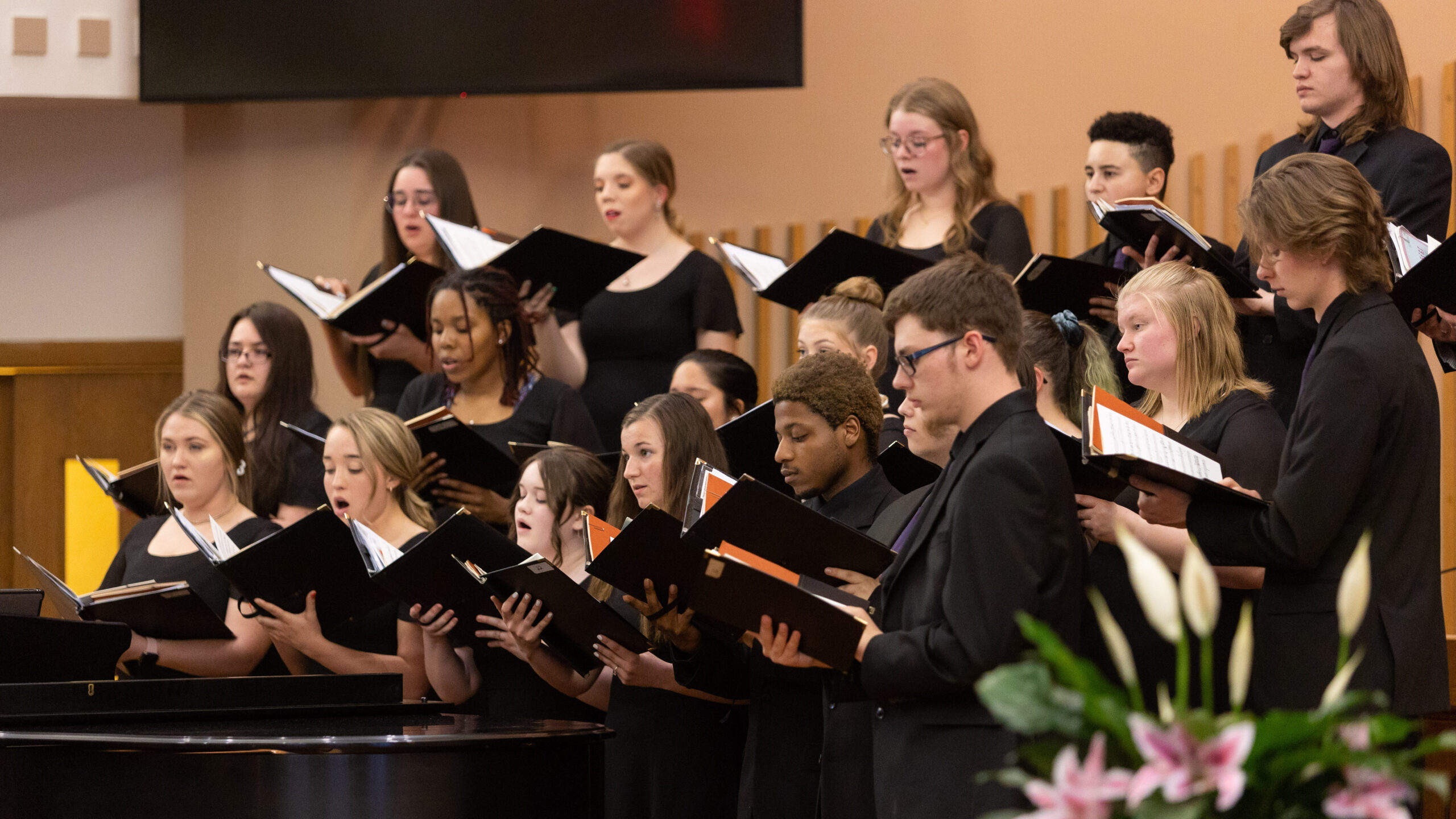 Diversity, Equity and Inclusion Statements
The DEI vision for Kansas Wesleyan is to promote a diverse culture of equity, inclusion, integrity, and collaboration that deepens understanding and embraces intercultural and global experiences for students, faculty and staff.
Music Department
The KWU Department of Music believes a diverse, equitable and inclusive environment is vital for academic excellence and musical artistry. Through the ideals of inclusivity, all are welcome to experience a vast variety of musical experience in both academic and performance settings. The Department of Music commits to developing and sustaining practices that nurture the educational missions of the department, division and university.
Updated September 2023
Ensemble Opportunities
Students can participate in these groups!
Winds and Percussion
Wind Ensemble
The Howl of Kansas Wesleyan Pep Band
Jazz Ensemble
Percussion Ensemble
Voice 
Philharmonic Choir
Wesleyan Chorale
Strings
Hands-On Learning in the Community
Through partnerships with several community organizations, KWU is able to provide students with many opportunities to rehearse and perform with professional musicians.
Salina Symphony Orchestra
All string music majors are invited to audition to perform in Salina's regional symphony orchestra and learn about its operation. Wind/Percussion majors may be invited based on available openings. Students may have opportunities to assist the directors of the Salina Youth Symphony and Youth Choir attending rehearsals, sitting in with the younger players, leading sectionals and providing private lessons. This allows for the unique opportunity of hands-on teaching experience with elementary through high school students outside of the public school experience.
Theatre Salina
Kansas Wesleyan has a history of partnering with the nationally recognized Theatre Salina to put on a large-scale musical each year. This partnership includes students, faculty, and community members in the cast, crew, and pit orchestra. Unique among universities in the area, our partnership with Theatre Salina gives students the opportunity to experience quality theatre productions without traveling outside of Salina.
Off-Campus Performances
Close ties within the community surrounding us also enable students to perform in community concerts, local churches, and even regional tours. The ensembles at KWU have gone on tours statewide, regionally, and even internationally and we are excited for these opportunities to continue and expand. Most recently, the choirs toured the Southwest region; in the past, they have even traveled internationally throughout Europe and even China!
Students Teaching Students
KWU students may also give private lessons to young area musicians while being mentored and advised by faculty.
Performances
Close ties the community also enable students to perform in musical theatre and opera productions, community concerts, and local or regional tours. The Kansas Wesleyan University Philharmonic Choir and its select-voice ensemble, the Wesleyan Chorale, tour regionally, nationally, and internationally (every four years). Past tours include China, California, England, and the Czech Republic, Austria and Hungary.
Department of Music Information
It is the mission of the Department of Music to provide students with a comprehensive music education by focusing on:
A theoretical understanding of the musical language
The art of performance
The spiritual role music plays, individually and culturally
Winds & Percussion
Wind Ensemble
The KWU Wind Ensemble is dedicated to performing the highest-quality literature of the wind band, both old and new! This ensemble performs one to two concerts per semester, in addition to hosting honor band festivals, performing at university and community functions, and going on regional tours. Working in collaboration with the KWU String Orchestra, select members of the group will join the orchestra to perform full orchestra pieces on concerts.
The Howl of Kansas Wesleyan Pep Band
The Howl is Kansas Wesleyan's athletic band! Performing at athletic events with all new instruments, new instruments and a new look, this is an exciting group that we are building into the 21st century marching band. If you're looking for a high-energy energy ensemble and something different from a traditional marching band, this is the group for you.
Jazz Ensemble
The KWU Jazz Ensemble is a select ensemble that focuses on jazz techniques and repertoire. The jazz ensemble stays busy by preparing for concerts, festivals and community functions.
Percussion Ensemble
This group performs exciting and eclectic percussion music from all over the world.
Voice
Philharmonic Choir
The Philharmonic Choir is the larger concert choir at KWU. The membership is open to any KWU students, and the ensemble has students in all areas of academic studies. This group tours regionally or nationally each spring and performs a variety of music from classical to contemporary. Also, the group tours internationally every four years. The past spring tours include: Tour of China in 2006, California in 2008, England in 2010, and Czech Republic-Austria-Hungary in 2014.
Wesleyan Chorale
The Wesleyan Chorale is a select vocal ensemble of 24 students. Auditions for this ensemble are held each fall, and membership is based on a one-year commitment. The ensemble performs and entertains in a variety of venues on and off campus throughout the academic year.
Strings
String Orchestra
The KWU String Orchestra performs demanding literature from across the medium. The ensemble is highly active in the community and region.
The KWU SO has garnered state and national recognition in recent years. In 2017, the orchestra was selected for the first time in program history to perform at the Kansas Music Educators Association In-Service Workshop and followed that appearance with a return to KMEA in 2019. The orchestra was honored with the "American Prize" as a Finalist for the 2017-2018 Ernst Bacon Award for Best Performance of American Music – Collegiate Division. The KWU SO enjoys a unique partnership with The Salina Symphony, which, via audition, serves to enhance orchestra members' string/chamber music experiences with a full-orchestra one.
For more information, please contact Dr. Leonardo Rosario at [email protected].
Music Studio and Facilities
The KWU campus is home to various facilities frequently used by the Department of Music. These facilities began a complete renovation in late 2022, with the Applequist Family Music Center opening in Oct. 2023. Click the link below to read more!