President's Office
Learn more about the administrative leaders of KWU.
Words from Dr. Matt Thompson
Welcome!
Thank you for taking the time to find out more about the dynamic community at Kansas Wesleyan. We are fully committed to all aspects of our mission — academic excellence, spiritual development, personal well-being and social responsibility — and we demonstrate this in ways both big and small.
It can be seen in the personal attention that our professors offer students. These relationships are often cited by alumni as key to helping them achieve academic success, grow personally and pursue professional goals. Our commitment is evident in the nearly half-million dollars raised for upgrades to science equipment and labs. It thrives in the community partnerships and alumni relationships that create internship and out-of-the-classroom opportunities for students.
We recognize that having a plurality of experiences better prepares students to face tomorrow's challenges. That is why we enthusiastically support our 25 NAIA athletic teams, eight music ensembles and multiple theatrical performances. The Wesleyan Journey provides no- and low-cost travel opportunities for juniors and seniors so that everyone has the chance to learn away from the campus. Monday Night Alive, small groups and Fellowship of Christian Athletes feed students' spiritual growth. From intramurals to Debate and Forensics, there are so many ways that students can become involved, gain new skills and meet new friends.
If there is anything I may do to assist you in your exploration of Kansas Wesleyan, please be in touch. Come to my monthly open Coyote Chats, join me and my family for dinner in Shriwise, catch me at a Coyote athletic competition or sit next to me at a fine arts event. Keep up to date on campus happenings on our news page and follow us on social media.
All the best,
Matt Thompson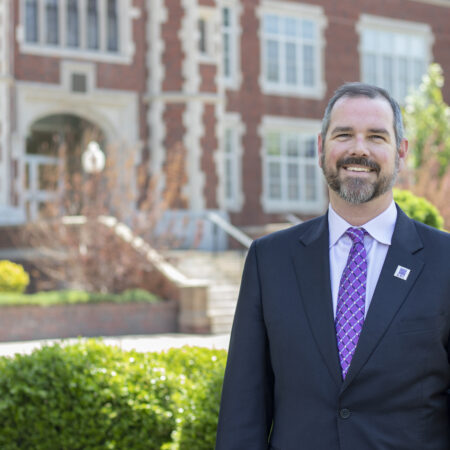 Dr. Matt
Thompson
Dr. Matthew R. Thompson was appointed by the Kansas Wesleyan University Board of Trustees as the 19th president of the university in January 2013 and officially began his presidency of Kansas Wesleyan on April 15, 2013.
As president, Thompson champions academic excellence and encourages innovation in scholarship and teaching. He has launched initiatives to build interdisciplinary strength around global challenges, expanded opportunities for experiential learning, and stimulated the introduction and expansion of the Wesleyan Experience, Wesleyan Journey and Wesleyan Heritage programs.
Thompson believes deeply in the KWU tagline "The Power of AND." He supports student involvement in arts and athletics, campus and community events, internships, and volunteering. Thompson has focused Kansas Wesleyan on pushing students to be their best and to meet their calling in life. Through collaboration and partnerships, Kansas Wesleyan is developing a reputation as an environment devoted to allowing students to thrive. These efforts have been recognized through inclusion as a "College of Distinction" and the "Best College for Employment in Kansas".
Before coming to KWU, Thompson served as the vice president for advancement at Florida Southern College. Beginning his career at his alma mater, Mercer University, Thompson has served in a variety of administrative posts. He has a broad base of experience, including advancement and fundraising, student life, academic curricula development, and alumni and community relations.
Thompson serves on several boards and committees, including Kansas Independent Colleges Association, Kansas Collegiate Athletic Conference and the National Association of Collegiate esports. He was the 2018 vice chair of the Salina Area Chamber of Commerce.
Thompson earned his Bachelor of Arts in Communication & Theatre Arts and a Master of Business Administration from Mercer University, Macon, Georgia. His Doctor of Philosophy in Higher Education Administration is from the University of Georgia, Athens, Georgia.
Thompson is an Eagle Scout and also served as a page in the U.S. House of Representatives.
He and his wife, Jennifer, and their daughter enjoy traveling together as a family, participating in all aspects of campus life and attending the many cultural arts opportunities in the Salina community.
More Information
Coyote Chats With President Thompson
Dr. Thompson invites students, faculty and staff to stop by and visit about any topics, or to share good news about your area of interest.
No Appointment necessary.
Visits are kept to 10-minutes to allow others who attend to meet with Dr. Thompson.
2023 Dates:
Upcoming:
Past:
Coyote Chats With President Thompson – 2023 Dates and Times
Dr. Matthew R. Thompson: 2013 – Present
Dr. A. Wayne Lowen (Interim): 2012-2013
Dr. Fletcher M. Lamkin: 2010—2012
Dr. Craig Dean Willis (Interim): 2009
Dr. Philip P. Kerstetter: 2002-2009
Rev. Dr. Marshall P. Stanton: (Interim – Dec. 1983-Feb. 1984) 1984-2002
Dr. Daniel L. Bratton: 1973-1983
Rev. C.M. Fogleman, Jr. (Interim): 1973
Dr. Paul W. Renich: 1969-1973
Rev. Dr. D. Arthur Zook: 1955-1969
George W. Richards (Acting): 1954-1955
Dr. A. Stanley Trickett: 1950-1954
Herbert J. Root: 1946-1950
E.K. Morrow: 1938-1946
Rev. Dr. Larkin B. Bowers: 1919-1937
Albert H. King (Acting): 1918-1919
Dr. John F. Harmon: 1915-1918
Dr. Robert P. Smith: 1908-1915
Thomas W. Roach: 1903-1908
Wilbur F. Hoyt (Acting): 1902-1903
Ansel Gridley (Acting): 1902
Milton E. Phillips: 1900-1902
F.D. Tubbs (Acting): 1899-1900
George J. Hagerty: 1896-1899
Edward W. Mueller: 1894-1896
Dr. Aaron Schuyler: 1887-1894
William F. Swahlen: 1886-1887
You can contact the President's office at (785) 833-4302 or by emailing Executive Assistant to the President Jan Shirk at [email protected].