Nursing (B.S., Major in Nursing)
Prepare yourself for a career of providing client-centered care.
2023 NCLEX annual pass rate
Employment rate since 2018
Caring Souls
The mission of the Kansas Wesleyan University Department of Nursing Education baccalaureate program is to prepare students as professional nurse generalists by incorporating the areas of biopsychosocial, behavioral and spiritual development into the delivery of nursing education so that students may provide client-centered care, pursue graduate studies and continue lifelong learning.
Why choose KWU for Nursing?
Community Partnerships!
Individual Attention for Student Success!
Strong, Revitalized Curriculum!
Kansas Wesleyan's Nursing program distinguishes itself because of small class sizes and dedicated attention to our students, dynamic partnering opportunities with the Salina Regional Health Center, and the total revitalization and strengthening of the curriculum. Salina Regional Health Center is a Trauma III critical care facility employing nurses year round. Many scholarships are available! For more information, click on the link in the right menu.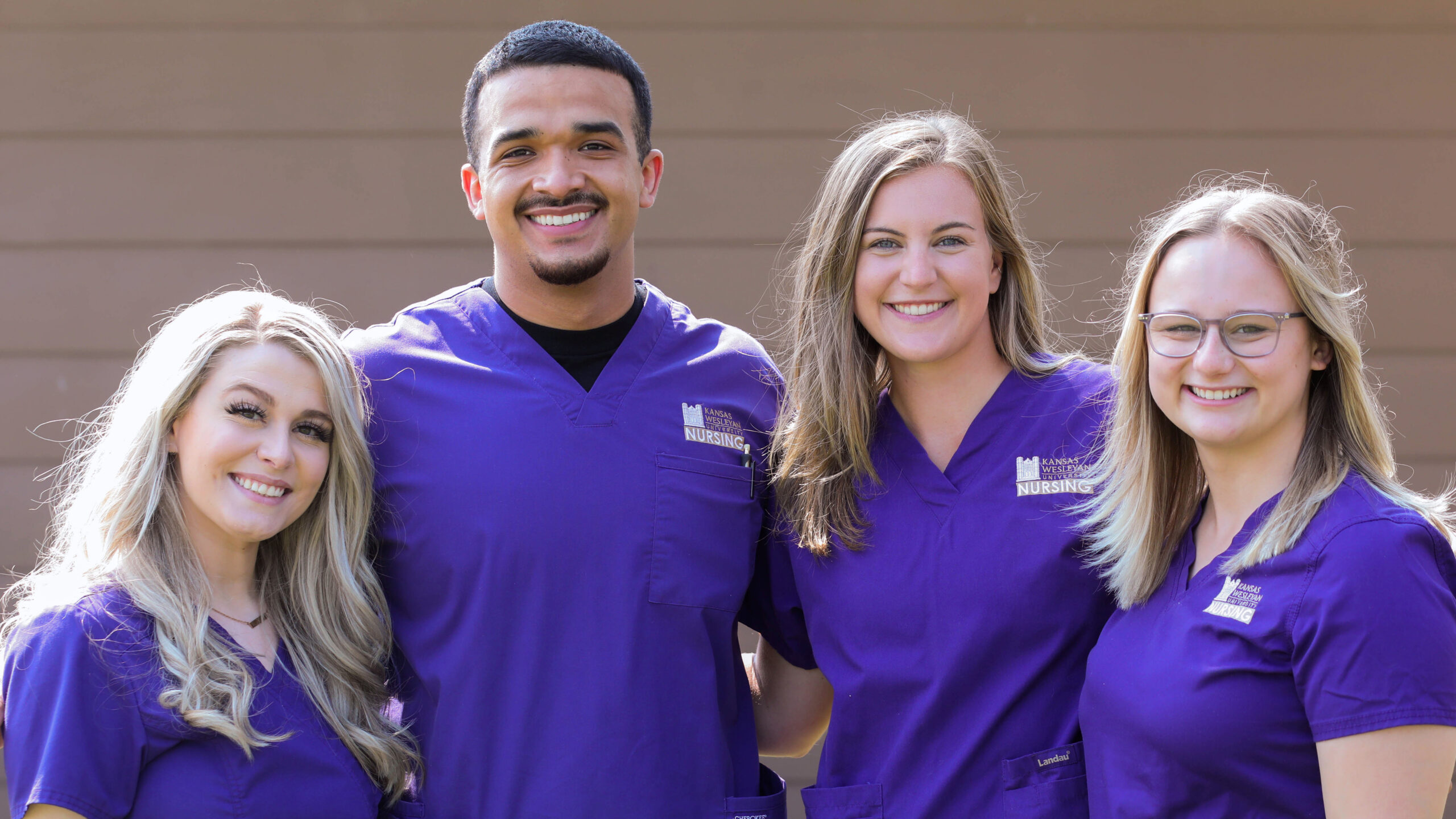 This program is offered:
On Campus
Nursing Scholarship Information
Transfer Scholarship Opportunities
KWU has launched a special, significant scholarship for transfer, non-activity Nursing students! For the Fall 2022 junior cohort class, junior transfer students who qualify for admission and enter KWU with a 3.5 GPA or better are guaranteed $25,000 of institutional aid for the year! Have a 3.0 GPA and want a new place to learn? You are assured of $22,500!
Recipients are not eligible to receive aid for participation in fine arts or intercollegiate athletics, and must meet admissions standards to both KWU and the Nursing program.
Learn more about KWU scholarships by clicking here! 
To learn more about opportunities for transfers in the Nursing program, please call (785) 833-4456 or email [email protected].
Scholarships for KWU Pre-Licensure Nursing Students
Academic University Scholarships: Contact KWU's Financial Aid Office for details.
Performance Scholarships: Contact KWU's Financial Aid Office for details.
Phi Theta Kappa: $1,000 awarded to students transferring from a community college to KWU with a 3.5 GPA. Contact KWU's Financial Aid Office for details.
Prime Scholarship: $1,000 for nursing students interested in pursuing a career in emergency care.  Renewable for freshmen through senior year; no residency requirement.  Deadlines:  July 31st for fall and December 15th for spring semester. Go to www.primemedicalalert.com/scholarship.
Scholarships provided by Salina Regional Health Center
Go to http://www.srhc.com/careers/scholarships.php for application and information
Student Loan Forgiveness for recent RN graduates: $10,000 per year with a 2 year tie of service commitment at SRHC.
NEW Scholarship (not part of loan forgiveness) for baccalaureate nursing students. Students must be accepted into a nursing program. $5,000 awarded per semester/$10,000 per year with one year of employment/service to SRHC or any affiliates. Must apply and interview with SRHC.
Related Links
For COVID-19 vaccination policy, see Nursing Student Handbook.
Nursing Program Accreditation
The baccalaureate degree program with a major in nursing at Kansas Wesleyan University is accredited by: The Commission on Collegiate Nursing Education, 655 K Street, NW, Suite 750, Washington, DC 20001, 202-887-6791.